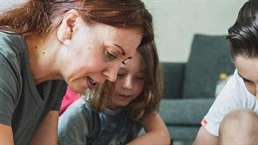 Quality operations
Humana's care is always based on the individual's situation and needs. Our approach is evidence-based, and care is provided by proficient and dedicated employees. Through welfare technology and by developing treatment methods, we improve quality for our customers and clients. Both our own and external surveys confirm that we succeed in what we do.
Four pillars of quality
Humana's opinion is that it takes commitment and structure in equal measure to achieve the best possible results for our customers and clients, and to ensure uniform high­ quality services. This work rests on four pillars:
1. Individualised solutions
Customers and clients always come first. We believe everyone is entitled to autonomy, integrity and a good life. Everyone is different, so our solu­tions must reflect this. Each client should have an individual plan with personal goals and should participate in preparing and reviewing the plan. In elderly care, the targets are aimed mainly at creating quality of life on the individual's terms. For young people in residential or family­ based care, the targets define goals for the individual's development. For example, they may focus on completing their education or eliminating self ­harming behaviours.
2. Common core values
Humana's shared core values are the basis for both our strategic planning and our day­ to ­day contact with customers, clients and contractors. The commitment, sense of responsibility and happiness of our employees make Humana a leading care provider.
3. Evidence-based practices
For Humana, an evidence­ based approach is central to ensuring high­ quality care for customers and clients. A common organisational structure for quality and methods ensures that Humana's specialists work in accor­dance with the best available know­ ledge and evidence ­based methods.
4. A high level of expertise
Humana is a business made by people, for people. We recruit dedicated individuals and offer continuous development. Our staff includes experienced social workers, nurses, assistant nurses, treatment assistants, psycholo­gists, legal experts and doctors.
Based on studies and evidence
Two examples of methods that Humana works with are Treatment Foster Care Oregon (TFCO) and Connect. Humana is the licence holder in the Nordics for both methods.
TFCO is designed for young people and families with serious problems that may call for placement in a residential care home. Within the framework of Humana's use of TFCO, a study is being done in which we follow 50 young people from treatment start to treatment finish. We measure school attendance, frequency of doing home­ work and the person's mental and physical health. TFCO is now on the National Board of Health and Wel­ fare's list of recommended treatment methods that all municipalities should be able to offer.
Connect is a structured programme with the aim of helping parents and other caregivers find a new under­ standing of both the child's and their own behaviours and reactions. The effects on children and the fami­ly ­based care after the family­ based caregivers have gone through Connect training are currently being studied in a randomised controlled trial (RCT) of Connect. The project is a collaboration involving Humana, Simon Fraser Uni­versity in Canada and the School of Social Work at Lund University in Sweden.
Humana conducts and contributes to research projects at universities and colleges. This gives us a stronger scientific basis for the methods we use, and helps expand knowledge gener­ ally within our fields. Humana's own method developers play a vital role in collaborations with researchers and projects.
Humana Quality Model
Humana uses its control model, the Humana Quality Model, to measure, monitor and enhance quality in all operations. The model is made up of two dimensions. One is the Humana Quality Index, HQI, which is an aggregate quality metric for the Group. The other is the follow-up of individual plans to ensure completion of the individual customer's/client's goals.
The HQI includes customers and employees and combines seven quality indicators, such as serious deviations and customer satisfaction. The index's maximum value and Humana's long-term target is 100. In 2020, the HQI amounted to 95, compared to 94 the year before.
The HQI includes the common Customer/Client Satisfaction Index (CSI) for all of Humana. The main focus during the year was on managing the Covid-19 pandemic, and it is gratifying to see that Humana was able to handle the situation well. The CSI for 2020 is 83, which is the same as for 2019. Each business area also conducts its own more in-depth surveys.
The percentage of clients whose individual plan is followed up according to schedule is monitored monthly. The long-term goal is for all operations to reach at least 98 percent. The total outcome for Humana in 2020 was that 88 percent of individual plans were followed up on time, which is the same as for 2019.
In elderly care, the Swedish National Board of Health and Welfare conducts an annual national user survey. That Humana came out well in the National Board of Health and Welfare's annual national survey of Sweden's elderly care homes again this year, even though the Elderly care business area was heavily impacted by the pandemic, sends us an important message. In the 2020 survey, customer satisfaction at Humana's elderly care homes was 83 percent. That can be compared with 81 percent on average for all elderly care homes in Sweden, both municipal and private providers.
Management systems
Our quality control work is aided by the management system Parus (process, activity, routine, follow-up, teamwork). In 2020, the implementation of Parus continued in the Finnish and Danish operations. In Sweden and Norway, the system was implemented in 2019. The implementation involves a harmonisation of policies, processes and work procedures. The management system makes it easy for the user to navigate ­different processes and find the activity that needs to be carried out in each situation. Thanks to Parus, we can develop capacity to perform risk analyses, ­follow up goals and carry out internal inspections.
Quarterly quality reports
To promote ­continuous development, our company is meticulous about openly communicating Humana's quality and deviations both ­internally and externally. Since 2019, the quality of our care is accounted for in quarterly quality reports on our website (humana.se or humanagroup.com) as well as in the company's annual quality report. These documents report on the ­monitoring of the Humana Quality Model.
Humana's quality management should help reduce serious deviations in operations. Employees are encouraged to report deviations so that events can be analysed, and similar mistakes avoided. Information about serious deviations, Lex Sarah and Lex Maria, is transparently noted on the website (humana.se or humanagroup.com).
Privacy and information security
Given Humana's area of operations, information security is critical. Humana has a special organisational structure with data protection officers in each country and a coordinator at the Group level. Humana analyses incidents and has an obligation to report serious incidents to the Swedish Authority for Privacy Protection within 72 hours.
In 2020, Humana experienced 58 personal data breaches in Sweden, of which 3 were reported to the Authority for Privacy Protection. Norway had 42 incidents, Finland 38 and Denmark 0, of which 1, 1 and 0 ­incidents, respectively, were reported to the responsible authority.